RK ROOFING Co Bensenville, IL
Roof Installation & Roof Replacement
All Kinds of Roofing Services
Also Gutters, Skylights & Roof Ventilation
RK Roofing is a local family owned roofing company, providing quality roof installation, replacement and repair services. Our roofing contractors serve the following areas.
COOK County, IL,

DUPAGE County, IL,

KANE County, IL,

KENDALL County, IL,

LAKE County, IL,

MCHENRY County, IL,

WILL County, IL
YOU CAN ALSO VISIT US ON FOLLOWING:
RK Roofing Contractors Provide Following Services:
Is your roof in need of repair? Are you looking to replace your roof?
RK Roofing Contractors offer the best products, service and warranties in the industry.
New Roof Installation
RK Roofing provides quality new construction roofing. We provide building owners, property managers and architects with residential roofing expertise
Roof Replacement
Did you know? The average house size in America is roughly 2,000 square feet, with older homes being a bit smaller than that and newer home
Roof Repair
Most roofing product manufacturers recommend twice-yearly roof inspections.
Gutters
Water may accumulate on the roof of your house due to rain, snow or ice, causing considerable damage to the roof, walls, sidings, and foundation of
Windows
In order to expend our service offer to our customers we have partnered with trusted and A+ rated company to provide window services.
Gutters Leaf Protection
When gutters become clogged by leaves, pine needles and debris, your gutter will overflow causing damage to your landscaping, basement or
Skylights
With a small investment, you can dramatically transform any room in your home with additional daylight and fresh air.
Roof Ventilation
Construction practices and products have changed dramatically in recent decades. Windows and doors are more airtight,
Energy Green Roofs
There are lots of choices you must make as a homeowner, from the smallest decisions about how to decorate your home to the larger ones, like what type
Doors
In order to expend our service offer to our customers we have partnered with trusted and A+ rated company to provide door services.
TESTIMONIALS
Reputation is everything and our work is quality.
R. Stradley 08/23/22
kjhgwoeihj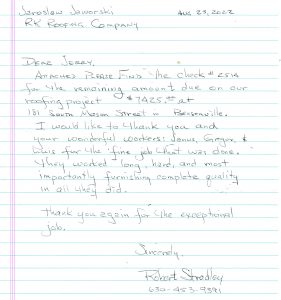 P. Johnson – 09/23/2020
Thank you Jerry I meant to call and leave a note. I appreciate what a good job your guys did and how they took photos and clarified what they saw was good, what needed some attention, they pointed out some painting that needed to be done that was slightly out of my daily eyesight and I thought they were great. I appreciate your promptness and attention. P. Johnson
Jason L. – 09/11/2019
"RK Roofing located in Bensenville, IL (Jerry and his crew) are professional, knowledgeable and very experienced. I had hail damage to my roof and wanted to avoid replacing it by an unknown roofer or a random door to door storm chasers. I wanted to use Owens Corning s Woodcrest shingles and found RK Roofing on the Owens Corning s website as one of their preferred roofing company, with very high reviews. I searched other sites, including HomeAdvisor for additional reviews, and found all great rev
Connie Indelli – 8/31/2019
"R K Roofing is completely an excellent company to hire for your new roof . The use the highest quality roofing material and the price was the best . The owner is a roofing professional and a gentleman. He crew workers are the hardest working men I ever seen and it was very hot out and humid. After the roof was installed and completed they cleaned up so well it was like they were never there. I will recommend them to all my friends and neighbors for roofing projects. They are awesome!"
James F. – 08/28/2019
"These guys came out and did a hell of a job, cleaned up, no debris left behind and did a very good job installing the new roof."
Gary M. – Aug 05, 2019
"This is a followup to our review from a couple years back for a complete roof tear-off and replacement Jerry's crew from R K Roofing did for us. They also repaired some fascia and gutters at that time that needed it before the roof could be completed. They did a great job and followed up afterward. Since that time Jerry has twice responded in a timely manner to our concerns of suspected storm damage to shingles and what seemed to be a leaky skylight in the dead of winter. The former issue they
Gary McGlauchlin – 7/21/2019
"Great! Jerry's team did a complete tear off and roof replacement and provided a ten year parts and labor warranty per our quote requirements.(see our previous review from 2017). At that time we reserved our judgement awaiting the test of time. Since then we had a couple minor concerns. First some dripping from our new skylight over the winter of 2018/19. Owner Jerry was helpful, responsive and whenever we made contact. That dripping problem we learned was only condensation during the 24-30 be
Margo Higgins – April 2019
"What a great company. They were able to patch a hole in the roof right away. We decided to use them for our new roof. They did a great job. Very thorough with their clean up too. I would highly recommend them."
Ken B. – Mar 13, 2019
"I worked with Jerry. Jerry was very professional, he had great communication. He did everything that he said he would as we agreed from the beginning. The crew that was at my location did an outstanding job. They were very professional and kept the job site clean. I highly recommend RK Roofing."
Don K. – Mar 07, 2019
"I have only good things to say about RK Roofing. I had no complaints."
Brdget Thomas – January 2019
"These guys are great! Old World Workmanship here in the USA! I love my new roof. The crew were so professional , clean and efficient. Couldn't ask for better work ethic and expertise! Would recommend them for anyone with roofing needs of any type. They are fair and honest!"
Ken Budka – 10/24/2018
"Hi, Jerry, Many thanks to you and your crew--Greg, John, and Michail--they were outstanding, very meticulous and professional with their work from start to finish. The roof looks great, the job site was clean, and all the debris and nails were picked up and removed. We couldn't be happier with the results. By far, the best value around considering the wide range of prices we received from various roofing contractors. Ken B. - Glen Ellyn, IL"
Wanda Z. – 07/17/2018
"RK Roofing made my roof replacement project so easy and stress free. RK Roofing was always responsive, answered all my questions and took care of everything.  The roofers that came to do the work did a great job. They were very professional, courteous and genuine. My roof looks amazing."
Don Kobierowski – 8/22/2018
"Everything went well, the way you'd want and expect it to go. Roofing crew cleaned up the property every day and hauled away all debris. Jerry Jaworski ( I guess he's the owner ) promptly answered all my questions ( E-mail is the best way to communicate with him ) and the job was completed as per quote. I'm very happy with RK."
Michael Kelstrom – 8/5/2018
"OUTSTANDING BY EVERY MEASUREMENT. Jerry from R K Roofing was outstanding to work with. He was very responsive to my initial inquiry, and prepared a proposal which he dropped off in person on a timely basis. We were immediately impressed with Jerry and his presentation, and after two other outstanding proposal requests were received, we contacted Jerry to accept his proposal. Jerry also stopped by in person to show us shingle samples, for our selection. R K Roofing was able to begin, and complet
James Sajdak – 6/23/2018
"Great job on the gutters and soffit and when they removed them, also found the much of the fascia boards had rotted out the roof. They replaced all this. Also, when I first called them, they came and replaced missing shingles before they did any other work. Finally, after installing downspouts, I asked them to move them from the alley side to the yard side and they came and did this with no additional charge. So I must say worked out great! For all this, didn't charge me until all the work was
J Erdei – 6/20/2018
"R K did a fabulous job. The guys were very professional and kept the area clean while working. I have dogs so this was greatly appreciated. They arrived right on time and visited with me a bit to relay the logistics of the job and the roof looks great! In fact, the house has a totally different look with the architectural shingles, it looks really rich! I would certainly recommend R K Roofing, they get an A++."
Mary Anselmo – 6/8/2018
"Excellent...in one day. Crew came at 7:15 am and worked until 7:30 pm Addressed issues that they found , repaired them at a very reasonable cost. They attached our bathroom exhaust properly, replaced wood that was rotted and moved our installation that was covering the vents."
Dave Schultz – 06/04/2018
"Jerek and his crew were very responsive and professional. The roof was completed in a day and I am very satisfied with the quality of the work and the materials used. Jerry addressed all my concerns and the pricing was fair and reasonable. Highly recommend RK Roofing!"
David S Schultz – 6/1/2018
"Great. Jerry and his crew were very responsive and professional. The roof was completed in a day and I am very satisfied with the quality of the work done and the materials used. Jerry addressed all my concerns and the pricing was fair and reasonable. Highly recommend RK Roofing!"
Angela Roster – 5/24/2018
"Jerry from RK Roofing was amazing to work with. I work at home and am on my computer all day, and he communicated with me awesomely through email, text, and phone, always the perfect way for the situation. When he went to get the work permit at the village hall, there was some issue with the water bill, and he paid the outstanding bill so that he could get the permit and start the work on time. I thought that was very classy and immensely professional and helpful (and we reimbursed him, of cour
David Mayerchin – 5/7/2018
"They were very professional throughout the project. They tore off and re-roofed same day, and came back next day to install new gutters. Everything looks great!"
Kathleen Leahy – 3/5/2018
"First, our older roof had deteriorated and had a leak in an upstairs bathroom. I found RK Roofing on Angies List to be very competitive on price with many satisfied customers. On June 1 2018 they did an excellent job, completed a new roof all in one day! Then on July 21st, we had a major hail storm, just about everyone on the block who checked, had damage. Our insurance adjuster found enough damage, even on the new roof, to shorten its life expectancy, so they issued a check for a replacement r
Shelley Krause – 02/06/2018
"Smoothly and professionally"
Armen Tatevosian – 01/26/2018
"Jerry was great! They used the materials I selected from their website, and performed the work as requested. The crew came when scheduled and completed the work promptly, with Jerry there right on site :-). He had a separate guy come back to do the gutters, and all work was completed promptly. We selected RK Roofing because of the positive reviews, and the experience was just what we hoped. We especially liked that we weren't asked for a big down payment, as last time we paid a contractor in-
Michele Brashears – 12/08/2017
"Definitely recommend this company! Jerry, although I never actually met him in person, was great to work with about my roof. Nice guy and responds promptly to messages. Very reasonable price and the guys did a really good job. They were done in one day and everything was cleaned up. Would use them again for sure!"
Rod Stipe – 11/20/2017
"Very well, have been pleased with all aspects of their work."
Bob Littlefield – 11/11/2017
"Each time the workers were fast, cleaned up after themselves and their work was excellent. If I had more work to be done I would call them again."
Susan Roberts – 10/31/2017
"They came out on Monday, October 30, and worked from around 7:45 a.m. until nearly dark. I could not be home for part of the day but had my neighbor keep an eye on them. She said they worked very diligently and consistently. We are very pleased by the results we've seen. They noted some issues and promptly took care of them after checking with us"
Thomas Martinez – 10/22/2017
"It went very well. Jerry always returned my phone calls very promptly and the work crew were a great group of guys who worked hard until everything was completed. They were always polite and conscientious, and always willing to explain how and why they were doing the project the way they were doing it."
Hasmig Nielsen – 10/16/2017
"We hired Jerry to do a tear off. The new roof came out perfect. Work area was picked up wonderful too. Jerry does wonderful work. I would not hesitate to hire him again."